XH430-W350-R
370,10$
Bez daně: 305,90$
Výrobce:
ROBOTIS
Model:
902-0120-000
Bonusové body:
0
Dostupnost:
Závazná předobjednávka
The DYNAMIXEL X-Series is a new line-up of high performance networked actuators.
For more detailed information, please visit the
DYNAMIXEL X-Series Product Information
page.
• Improved Torque, Compact Design
• Enhanced Durability and Expandability
• Hollow Back Case Minimizes Cable Stress (3-Way Wiring)
• Frames Directly Screwed onto the Case (No Nuts Needed)
• Improved Aluminum Case Heat Sink
• 6 Operating Modes
• Current-Based Torque Control (4096 steps, 2.69mA/step)
• Profile Control for Smooth Motion Planning
• Trajectory Data and Moving Status (In-Position, Following Error, etc.)
• Energy Efficient (Standby Current Reduced from 100mA to 40mA)
■ Various Cabling Methods

■ Key Names

■ Model Numbering
■ Package Contents
Description
Quantity
DYNAMIXEL
XH430-W350-R
1
HORN
HN12-N101
1
WASHER
Teflon Washer (for Horn Assembly)
1
CABLE
Robot Cable-X4P 180mm
1
Robot Cable-X4P
(Convertible) 180mm
1
BOLT/NUT
Wrench Bolt (WB M2.5*4)
16
Wrench Bolt (WB M2.5*6)
1
Wrench Bolt (WB M2*3)
10
ETC
Spacer Ring
8
■ H/W Specifications
Model Number
XH430-W350-R
Weight (g)
82
Dimensions (mm)
28.5 x 46.5 x 34
Gear Ratio
353.5 : 1
Operating Voltage (V)
11.1
12
14.8
Stall Torque (N.m)
3.1
3.4
4.2
Stall Current (A)
1.2
1.3
1.5
No Load Speed (RPM)
27
30
37
MCU
ST CORTEX-M3 ( STM32F103C8 @ 72MHZ,32BIT)
Position Sensor
Contactless Absolute Encoder (12BIT,360°) by AMS
Motor
Maxon Motor
Resolution
0.088° x 4,096 steps
Operating Range
Position Control Mode : 360°
Velocity Control Mode : Endless Turn
Input Voltage (V)
10~14.8 (Recommended : 12)
Operating Temperature (°C)
-5 ~ 80
Command Signal
Digital Packet
Protocol Type
RS485 Asynchronous Serial Communication (8bit, No Parity, 1 Stop)
Link (Physical)
RS485 Multidrop Bus (Daisy Chain)
ID
253 (0~252)
Baud Rate
9600 bps ~ 4.5 Mbps
Feedback
Position, Velocity, Current, Real-Time Tick, Trajectory, Temperature, Input Voltage, etc.
Material
Case : Metal (Front, Middle)
Engineering Plastic (Back)Gear : Metal
Standby current (mA)
40
■ Default Settings
ID : 1
Baud Rate : 57600bps
*Please make necessary modifications to ID, baud rate, etc. after purchase.
■ Compatible Devices
Embedded Board : OpenCM9.04 & RS485 Expansion Board
PC Interface : USB2Dynamixel (Molex-JST Convertible Cable is required)
■ Development Environment
RoboPlus 2.0 (GUI Software) :
download
OpenCM IDE :
download
SDK :
download
Drawings :
download
E-manual :
link
■ Caution
The DYNAMIXEL X-Series adopted a new gold-plated
JST connector for secure and reliable communication.
For more information, please see the
[DYNAMIXEL Connector Standard]
page on the e-Manual.
To control DYNAMIXEL X-Series actuators via OpenCM or USB2Dynamixel,
please use the JST-Molex Convertible Cable enclosed in the package.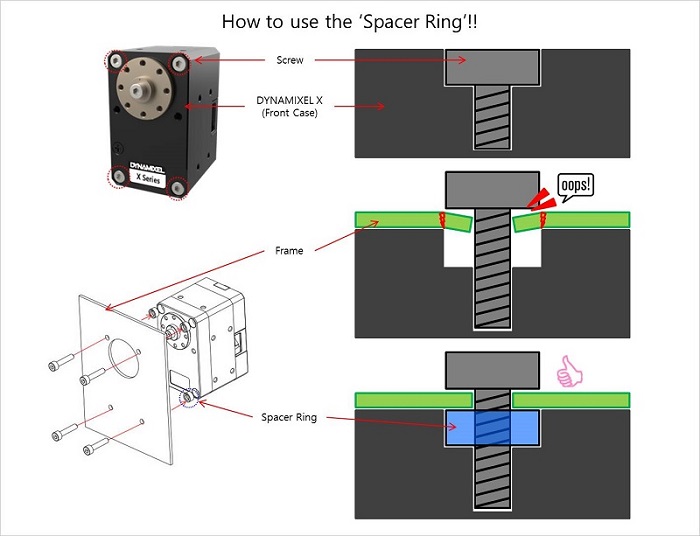 Napsat hodnocení
Vaše jméno a příjmení:
Text hodnocení:
Poznámka: HTML tagy nebudou převedeny!
Hodnocení:
Nejhorší
Nejlepší
Opište prosím kód z obrázku do pole níže: