DYNAMIXEL MX-28AT 6pcs Bulk
1 572,90$
Bez daně: 1 299,90$
Výrobce:
ROBOTIS
Model:
902-0100-000
Bonusové body:
0
Dostupnost:
Závazná předobjednávka
1. Precisely designed and specially processed
Aluminum front case
2.
Decreased noise and improved protection against heat
3.
Front screw threads are already threaded
for easy bolt assembly
4.
Maintains same dimensions
as the existing DYNAMIXEL M-series (option frames are compatible)
■ Description
DYNAMIXEL is a robot exclusive smart actuator with fully integrated DC Motor + Reduction Gearhead + Controller + Driver + Network in one DC servo module.
MX-series is a new concept of DYNAMIXEL with advanced functions, such as precise control, PID control, 360 degree of position control, and high speed communication.
Advanced durability, degree of precision, and wider control zone were achieved thanks to the newly applied
CONTACTLESS ABSOLUTE ENCODER
360 degrees POSITION CONTROL
without dead zone
4,096 PRECISE RESOLUTION by 0.088 degrees
SPEED CONTROL at ENDLESS TURN MODE
Reliability and accuracy were advanced in the position control through
PID CONTROL
High baud rate up to 4.5Mbps
TTL LEVEL COMMUNICAITON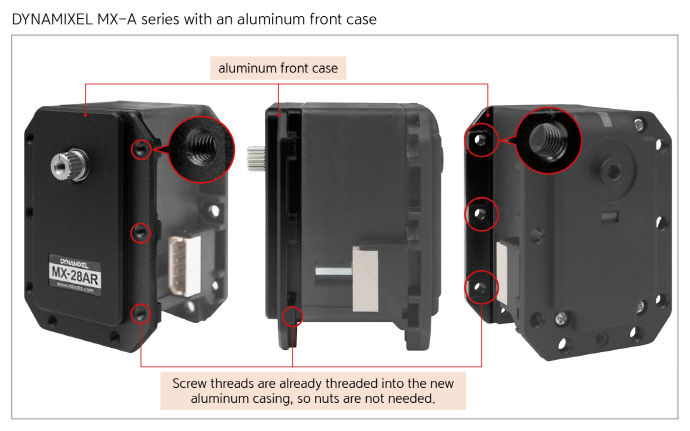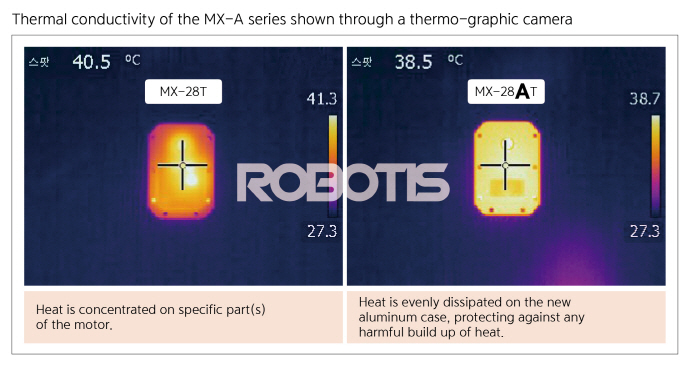 ■ Package Contents
Description
Quantity
DYNAMIXEL
MX-28AT Bulk
6
* Accessories not included
■ H/W Specifications
Product Name
MX-28AT
Weight
77g
Dimension
35.6mm x 50.6mm x 35.5mm
Gear Ratio
193 : 1
Operation Voltage (V)
11.1
12
14.8
Stall Torque (N.m)
2.3
2.5
3.1
Stall Current (A)
1.3
1.4
1.7
No Load Speed (RPM)
50
55
67
Motor
Maxon Motor
Minimum Control Angle
About 0.088 degrees x 4,096
Operating Range
Actuator Mode : 360 degrees
Wheel Mode : Endless turn
Operating Voltage
10~14.8V (Recommended voltage : 12V)
Operating Temperature
-5°C ~ 80°C
Command Signal
Digital Packet
Protocol
Half duplex Asynchronous Serial Communication (8bit,1stop, No Parity)
Link (physical)
TTL Multi Drop (daisy chain type connector)
ID
254 ID (0~253)
Baud Rate
8000bps ~ 4.5Mbps
Feedback Functions
Position, Temperature, Load, Input Voltage, etc.
Material
Case : Engineering Plastic
Gear : Full Metal
Positioin Sensor
Contactless absolute encoder
■ Compatible Products
Controller : CM-5, CM-510, CM-530, CM-700, OpenCM9.04 (+ 485 Expansion Board)
Interface : USB2Dynamixel (TTL)
Old horn : RX-28 HN07-N1 Set, RX-28 HN07-T1 Set, RX-28 HN07-I1 Set
Old frame : RX-28 FR07-H1 Set, RX-28 FR07-S1 Set, RX-28 FR07-B1 Set
New horn : RX-24F/RX-28 HN07-N101 Set, RX-24F/RX-28 HN07-T101 Set, RX-24F/RX-28 HN07-I101 Set
New frame : RX-24F/RX-28 FR07-H101 Set, RX-24F/RX-28 FR07-S101 Set, RX-24F/RX-28 FR07-B101K Set, RX-24F/RX-28 FR07-F101K Set, RX-24F/RX-28 FR07-X101K Set
■ Frame Purchase Guide
Frame/Horn Compatibility Table
■ Control Environment
Robot exclusive software RoboPlus :
Download
C/C++, C#, Labview, MATLAB, Visual Basic, etc. :
Library Download
■ Drawings
Download
(has same dimension as MX-28T)
Napsat hodnocení
Vaše jméno a příjmení:
Text hodnocení:
Poznámka: HTML tagy nebudou převedeny!
Hodnocení:
Nejhorší
Nejlepší
Opište prosím kód z obrázku do pole níže: